Index Points
Introduction
Assumptions
Code Generation Steps using Sitecore Rocks
Image Guided Steps for Code Generation using Sitecore Rocks
Conclusion
Reference Links
Introduction
This post will guide you on how to work with code generation using Sitecore Rocks.
Assumptions
You have already setup Sitecore site visual studio solution.
Installed and Configured Sitecore Rocks with Visual Studio solution for Sitecore site.

If not then check the Sitecore training series on YouTube –
Code Generation Steps using Sitecore Rocks
For Code generation using Sitecore Rocks the steps are:
Setup the Sitecore site using .exe installer or Siteroot zip – available from Sitecore SDN.
Setup Sitecore site in Visual studio solution – Creating .sln file.

Install Sitecore Rocks (if not already installed).

Connect the Visual studio solution with Sitecore site using Hard Rock web service exposed by Sitecore.

Create new StronglyTypedItems file in Sitecore visual studio solution, extension will be .scx, with appropriate name – for example "CodeGenerationFile.scx".

Right-click on created file "CodeGenerationFile.scx" and execute the command 'Run Custom Tool' for code generation.
Note: Check YouTube video series linked in assumption section for information on how to install and setup Sitecore Rocks and Sitecore Visual studio solution.
Image Guided Steps for Code Generation using Sitecore Rocks
The visual steps for Sitecore Rocks code generation are as below: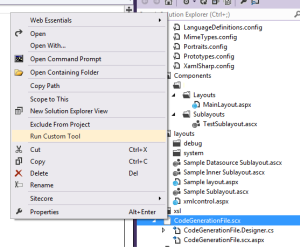 Conclusion
Code generation with Sitecore Rocks is very easy to follow. After generating code using Sitecore Rocks, developers may move the classes to relatively named class files by themselves or using command 'Move class to file' using ReSharper tool.
Reference Links
Do comment if you like this post or have any opinions.
Related articles